By Mike Mooneyham
Sept. 9, 2007
Don Arnold spent more than three decades in the wrestling business. But, unlike many of his peers, wrestling was just a small part of who Don Arnold really was.
For several years he was a high school teacher, coach and counselor by day, and a pro wrestler by night. Neither his students nor his employer knew that the popular Arnold was the same man they watched – and hated – on television, hiding behind a hood as the menacing "Dr. Death."
"It was fun for everybody concerned," says the 83-year-old Arnold, whose sharp wit and still-muscular build belie his age.
Arnold got his start in the wrestling business in 1950, appearing mainly on the West Coast, but also in Hawaii, Australia and New Zealand. He was an accomplished technician in the ring who spent the last five years of his career as a heel.
"Much easier, better money and I enjoyed it," he says of his stint as a bad guy.
"He was a very good heel," recalls veteran wrestler Bill Anderson. "I moved to Phoenix in 1971 and watched him wrestle at the old Madison Square Garden in downtown Phoenix every Friday night. I saw him wrestle guys like Cowboy Bob Ellis, Ben Justice, Arman Hussein and Pancho Pico. Thinking back, Don reminds me of Arn Anderson, very similar styles."
"While most of the villains came on the screen and hollered at the top of their lungs, Arnold was always calm and calculating when he spoke," says pro wrestling pundit Dale Pierce. "He had this annoying, slow way of speaking, and it was deliberate. Whenever he came on for mic time at the TV tapings or grabbed the mic at the house shows, people started booing instantly, because they knew whatever he said, they weren't going to like it." Arnold, though, with his powerful physique and handsome facial features, looked more the part of a fan favorite. He was good enough in his heyday to defeat the likes of Gorgeous George, Buddy Rogers and Johnny Valentine. He even worked later in his career with Andre The Giant. "I came up to his shoulders," he laughs.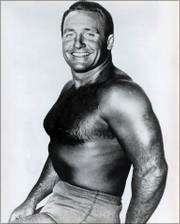 "But I learned a lot from George," Arnold says of the flamboyant "Human Orchid," whose colorful antics sparked a boom in wrestling during the '50s. "He wasn't in very good shape, but he didn't have to be for what he did. But he did things that no one else was doing. He was a big name."
"And he looked good because I used to do his hair," chimes in Ardath Michael, Arnold's chirpy companion and a well-known Hollywood hairstylist at the time. "I used to make him pretty, and Don would mess him up."
Michael, an attractive brunette nearly 20 years Arnold's junior, makes it known early in the conversation that she's "Don's favorite ex-wife."
And just how many women has this world traveler, who
admittedly likes his wives "young," exchanged vows with?
"Just four," he replies matter-of-factly.
"I was the best of the bunch," Michael – wife No. 3 – affirms.
"Absolutely," says Arnold, who's obviously had practice in giving the right answers.
"I've got him in a vice grip, so he better say yes," she laughs.
No ordinary couple
In case you haven't guessed by now, Don Arnold and Ardath Michael aren't your ordinary couple. And that's OK with them. They don't want to be.
Both have led extraordinary lives.
Arnold has been an educator, administrator, counselor, lecturer, hypnotherapist and professional athlete. He grew up in San Diego and was a wrestling standout on a San Diego State University squad that won the Western Athletic Conference title. He spent three years in the Air Force following graduation before returning to college to earn degrees in history and health education. He finished runner-up in the AAU national championships before graduating in 1950.
Arnold set a world record in 1949 with a 420-pound bench press that stood for several years until "some monster came along and made me look bad." It was drug-free lifting for Arnold, and 420 was a pretty respectable mark.
"Now he needs three aspirin to open up a bag of potato chips for me," ribs Michael, whose equally quick wit keeps her beau on his toes.
But neither would have it any other way. Their engaging repartee begs the question as to how these lovebirds met.
"Oh, my goodness, do you really want to hear the real story?" asks Arnold's better half. "Here's this gigantic hunk of a muscleman, which I don't care anything about, but they told me he was a hypnotherapist and a darned good one. He specialized in weight loss and smoking technique. Well, I was a candidate for smoking technique, and I had been under hypnosis since I was 8 years old."
The process didn't work. It wasn't, she says, because he couldn't hypnotize her.
"She's the best subject I ever had," quips Arnold, whom she says merely snapped his fingers and hypnotized her right into being Wife No. 3.
Staying positive
The two were married in 1987 and spent several years together. "We've never been far apart and have always been the best of friends," says Michael. "He's also my favorite ex."
"I wore out five of them," she says, before slightly amending her statement. "I guess I really wore out four – Don survived."
Arnold, whom Michael jokes has "more PMA than I've got PMS," doesn't see his advanced age as a hindrance. "It's just a matter of attitude," says Arnold. "Intellectually I see myself and do things as I've always done. You hang around people who are falling apart, and you're going to fall apart, too."
"Don is, without a doubt, the most positive man I've ever met in my life," says Michael. "He just didn't get that way accidentally. He made positive, conscientious choices along the way – including positive choices not to do certain things. He never drank, he never smoked, he never did the drug scene. He's an All-American kid. It is a case of being in the right place at the right time, but I firmly believe you attract like people. And he's a healthy, happy person."
So it wasn't just his chiseled body that attracted Michael?
"I've got to be honest here," she says. "He looked scary. I'm a little person – maybe not today, but I was then. I weighed all of about 104 pounds when I met him. So I've never been attracted to big, brawny guys. But I really was attracted to his brain. I sat down with him for a session, and I heard the words that came out of his mouth, and it attracted me. I didn't even know he was a wrestler at the time."
It was a much simpler process for Arnold.
"She was one cute lady. I usually go for redheads, but I think she would dye her hair for me."
The vibrant, high-octaine octogenarian has always maintained a strict training regimen. Unlike many of his contemporaries in the wrestling profession, he ate well, slept well and kept away from the booze. He's still a physical fitness enthusiast. Nowadays, though, he stays away from jogging and running, but still does aerobics and flexibility exercises. "I go down to the pool and walk on water … I get up and kiss my picture every day," he laughs.
"He looks great. You'd never believe he was almost 85," says Michael. "His little old ticker is going to need a pacemaker at some point, but he's still got that big old smile and is jumping around like always."
Despite a pair of artificial hips, Arnold can still cut a mean rug on the dance floor, she says. "All those years of taking bumps in the ring, and the artificial hips occur within about two to three months after he and I got married."
"I survived damned near 30 years in the ring, but I think I met my match," jokes Arnold.
The hips, he says, unfortunately marked an end to his surfing activities. Arnold was an accomplished surfer who started at the age of 14 and worked the waves off the coast of California and Hawaii. Arnold's son also is a world-class surfer who learned from his dad and has lived in Hawaii for the past 20 years. He has a daughter who lives in Hickory, N.C.
Lifetime of memories
There's a lot to remember looking back at his long life and career, and sometimes Arnold struggles. But he has a ready explanation: "If it's worth remembering, I'll remember it."
Unfortunately nearly all of his wrestling memorabilia was destroyed in a 2003 fire. Friends and fans have provided him with some relics from his past, and the memories come rushing back.
Looking at a photo on his wall of Arnold putting Gorgeous George in an airplane spin, he recalls the bleached blond wrestler telling him, "Don't drop me, don't drop me.' And when Arnold would pin him, his opponent would joke, "Kiss me you fool."
It was difficult for Arnold to keep a straight face while working with the master showman. "We talked (in the ring) 90 percent of the time," he says.
Then there was the time he held legendary NWA world champ Lou Thesz to a one-hour draw. "That was quite a deal," says Arnold.
He also recalls his days working in the Carolinas for legendary promoter Jim Crockett Sr. Not all promoters were easy to work for, he says, but the Charlotte-based matchmaker was different.
"Big Jim … he had a belly to go with it," chuckles Arnold. "He was one of the first promoters you could talk to. He was honest and you could talk to him. I wish there had been more like him."
Arnold could play either side of the face – heel or babyface – but he liked the bad-guy role because it gave him a chance to use some of his more scholarly skills.
"Being a Ph.D, a teacher and an expert in human emotions gave him plenty of ammo to work with that other wrestlers didn't have," says ring historian Pierce. "He knew exactly what would or would not get people going. He understood human nature and could play on it better than anyone. In the ring and on the mic he was a master of psychology. He likewise presented himself as the antithesis of your typical heel. He would speak calmly and arrogantly rather than yelling and screaming. In the ring, he would not brawl from the start, as he would start out cleanly, then do little, dirty things as he started to lose, conveying to the fans that he did know how to wrestle, but would rather take an easy way out to cheat and win. Whenever he did an extreme type tactic, it was at the end of the bout, when it meant something, in order to score a win."
Arnold liked being in front of a crowd whether as a wrestler or teacher and counselor. "The crowd just changes shape," he says. He'd do it again if he had the chance, but says he wouldn't take as many bumps (falls). "They take a toll after awhile. But it was a good life and I'd do it again."
Arnold says his hearing's going in one ear. "He never hears, 'Take out the trash,'" jokes Michael. "It's selective hearing."
Arnold also recently was diagnosed with sleep apnea. Michael says she used some gentle prodding to get him fitted with a special mask and CPAP (Constant Positive Airway Pressure) machine.
"I told him to consider it his newest mask. I said, 'Listen, Bigfoot, here's the deal. I've got one whale of a 100th birthday party planned for you, and you're not going to mess it up.'"
His sleep pattern, she says, has greatly improved.
"I definitely can see a difference. Not just in his sleep mode. He wasn't getting any REM (Rapid Eye Movement) sleep before. He was struggling to get sleep and tired the next day. His energy level is up considerably. He was back lifting weights the first day after using the machine. They were 12-pound weights, mind you, but he hadn't done that in three years. I see more sparkle in his eyes and more pep in his step."
Arnold, who retired from the ring at age 61 after competing for 34 years, has worn many hats during his colorful career, but he likes to say his background is in life education. He's written a number of books, the latest of which is titled "How to Ride a Tidal Wave."
"I'm a Ph.D, and that stands for Doctor of Philosophy," says Arnold, who earned his master's degree from the University of Arizona in 1959 and his Ph.D in human behavior from La Jolla University 25 years later. "That stands for Piled Higher and Deeper," jokes Michael.
What's no joke is that Arnold is highly skilled in a number of disciplines. His Ph.D thesis was called "Stress Reduction Through Cognitive Behavior" and has been used by students in research for nearly two decades. When he retired from wrestling and full-time teaching in 1984, he began teaching stress management to adults in evening classes. He taught until 2000.
He also published a book called "Stress Busters" in 1995. "He's a professional stress buster, and if you don't have any, he'll give it to you, I guarantee-damn-tee you," adds Michael.
Michael, a talented writer in her own right, currently is helping Arnold on his book. The late Bob Hope called Michael the "Erma Bombeck of Travelogue."
"Bob and my friend (Hollywood columnist) James Bacon used to go on safari to Africa nearly ever year. James had my book synopsis and the first three chapters of the rough draft with him on a flight one time. Bob wanted to know what James was reading that was causing him to howl out loud with laughter. So James shared it with Bob, and that's how I got my name from Bob."
Michael, though, gladly defers to her celebrated companion.
"My Bigfoot has had a much more colorful career, and I'm seriously thinking about putting him in a walker and putting him back in the ring and daring anybody to touch him," she laughs.
He's a man of many talents, she says, but his strong suit just might be his singing voice.
"If he could have had any other career, that man could have been one hell of an opera singer. He's got a range that's incredible. Just a beautiful voice."
Arnold put his crooning skills on display at a karaoke gathering last year.
"He got up and made an announcement that this would have been our 20th anniversary … had we stayed married," says Michael. "He said he had a song he was dedicating to me if I would be so kind as to come up and do the hula for him. He started singing 'It's Impossible.' That man is so funny. But he has to have a good sense of humor to put up with me."
All kidding aside, though, the two are close as a couple can be, and it's clear that Michael's still head over heels when it comes to the man she affectionately calls her "Bigfoot."
"It's very good that we have the relationship we do," she says. "We've always had it. We can trust each other implicitly to do what's best for one another."
King of Rock and Roll
Ardath Michael's background is equally interesting.
She was born in Memphis in 1942, but feels her home is on the Hawaiian islands.
"My birth certificate says Memphis, Tennessee, but I think it's a lie. I think it was forged. I know I was kidnapped out of Hawaii. I know I was. I feel like I belong there," says the transplanted Southern belle, who left Memphis in 1961 for a world of travel and adventure.
But not before she crossed paths with the King of Rock and Roll.
"Elvis (Presley) and I were in a capella choir together. He was seven or eight years older than me, but he was held back a lot and had kicked around the city schools. I can't carry tune in a bucket, but he absolutely was not a team player. He would just blurt out no matter what anybody else was doing."
Michael vividly recalls the day the high school choir teacher pulled the sideburned crooner aside and told him, "Listen Elvis. I'm here to tell you that you are definitely not a team player, and if you ever expect to make it, you're going to have to do it on your own." The instructor then kicked him out of her class.
"I knew a side of Elvis that wasn't real happy," says Michael, whose family lived only a few blocks away and whose cousin hung out with the singer. "He was very mischievous. He and his cronies were a tough bunch, and he ran like a jackrabbit. Memphis was a dry town back then, but you could go across the river to West Memphis (Ark.) and could drink and get rowdy. So he and his crew did just that."
She remembers Elvis and his friends once taking a Volkswagen that belonged to a teacher and putting it up on the steps of the high school. "It took a great amount of ingenuity to get it back down," she notes.
And then there was the day Elvis almost drowned her.
"I don't think he set out to drown me. He certainly set out to throw me over the balcony, and he succeeded there. I was maybe all of 13 at the time and at a public swimming pool in Memphis. I couldn't swim a lick. There was a snack bar area, but you had to go up a fairly long flight of stairs to get to it. There was a jukebox in the snack bar area with speakers that blared out over the swimming pool."
Michael and some girlfriends had placed their hard-earned quarters in the jukebox. But she says Elvis pulled the plug from the machine, grabbed the mic and began singing in lieu of the songs. When the machine was plugged back in, the girls' money was gone.
"This had happened several times, and being the tough little cookie I was, I decided to rectify the situation. I went bounding up there in my little one-piece suit and faced off with him."
"Listen, Elvis," she said, "You put that machine back in. Nobody wants to hear you sing. And, furthermore, you better put the quarters back in. They belong to my friends."
"Yeah, you and whose army?" Elvis snapped back.
"What you're doing is totally unfair. And nobody wants to hear you sing anyway," Michael told him.
Elvis then smirked and asked whether she could swim.
Before she could even respond, she says Elvis picked her up by the back of her suit, and threw her off the balcony into the deep end of the pool.
"I was so furious. I was sputtering and cussing him out on my way down," says Michael, who fortunately was retrieved by a lifeguard.
A day with The Greatest
Michael is long removed from her Southern roots, and her accent today wouldn't give her away.
"Honey, you give me a drink and it'll come right back to me," she jokes in her best Southern drawl.
She still uses the surname of one of her exes, international author Russ Michael, and notes that it's "only" one of six last names she's had along the way.
"And no, I'm not on America's most wanted list, only on Don's," she quips.
Michael, who has a sales and marketing background, has done everything from "being the toilet tissue queen of California and the mother trucker of San Diego, selling cars to importing roller coasters out of Europe." "My partner and I built most of the big Six Flags parks," she adds.
Michael also was a hairstylist in the motion picture industry – "a studio stylist of the stars" – for a number of years. Among her clients were such Hollywood luminaries as John Wayne, Kirk Douglas, Robert Mitchum, Dick Van Dyke, Joan Collins, Barbara Eden, Kim Novak, Annette Funicello, Elke Sommer, Angie Dickinson, Esther Williams, Leslie Caron, Rita Moreno and Stella Stevens.
"Many of whom have now graduated Classroom Earth and the glare of Tinseltown," she adds. "When I tell a new client that I used to shave Yul Brynner, they usually freak out and leap from my styling chair."
Michael, who notes that she shares the same birth year with Muhammad Ali, also shared the fun of making a disco record with the boxing legend during the '70s when she was a co-producer of "Black Superman." The ditty was recorded in Academy Award-winning composer Henry Mancini's studio in North Hollywood.
"Not only is Ali a gentle giant of a poetic great boxer, and loving father, but he is also a genuinely talented magician, who spent many hours entertaining us during this recording session."
She laughs when reminiscing about one of their sessions.
"As I was leaving Ali's home, I turned to him and said, 'It is true what they say about you. You are indeed a champ.'"
Ali slowly turned toward her, and with a horribly scary scowl on his face, grabbed her by the shoulders with his huge hands and swiftly picked her straight up, nose-to-nose.
"What did you call me?" he firmly asked.
"In absolute shock, I stammered something like, er, I called you a champ, Ali," she recalls.
"Are you sure you didn't call me a tramp?" he responded.
"He held his growling face in mine for what seemed like an eternity, and then slowly set me back down, and burst out laughing at my fright. He is a real tease, he is."
Michael says Ali spent the whole day in the recording studio playing one trick after another on her.
"Ali is truly light as a feather and can definitely sting like a bee," she laughs.
Baring it all
The buoyant couple, who spent more than a decade apart, have been back together for four years. The two reunited after Arnold lost his home and his possessions in a devastating California wildfire in October 2003.
"He had like 22 seconds to get out of there. He got out of there with his shirt , his pants and his wallet. But he got me," says Michael, who was living on Maui at the time and took her ex-husband back to Hawaii with her for several months following the blaze. "But we decided here on the mainland might be better suited to what his lifestyle is. So we came back to the San Diego area."
That lifestyle, plain and simple, is nudism.
"Don could never find any clothes to fit," Michael jokes.
Plus, quips Arnold, "it saves on laundry."
Both love the lifestyle. And that's the naked truth.
"It's an honest approach to doing whatever you do," says Arnold, who adopted the lifestyle more than 55 years ago after acquiring the interest by swimming and surfing in the nude at a San Diego beach. He bought a mobile home on the grounds of a nudist colony in 1978 as his wrestling career began to wind down.
"I grew up in San Diego on the beaches. The beach life was different. I was about 15 when I started with the nudist type thing. And it never stopped. You go to different places and do different things. It's a good life."
Arnold has been in and out of nudist camps and colonies across the country. Michael also has lived in various nudist camps for more than 30 years. Both readily extol the virtues of life in the buff.
"My mother used to whip my fanny because I'd always take my clothes off," she laughs. "I like to feel the grass in my feet and the wind in my hair. I've always felt comfortable that way."
"The people are very congenial," says Arnold. "You get a lot of professional people. It's a good cross section. Most people think that whenever you get nude, it's to take a bath or have sex. And that's not the case. People here are really honest. You gotta be. You have nothing to hide. You don't know whether you're talking to someone who'd normally be wearing a priest's collar or covered in diamonds, if they're a city official or a judge. You never know."
The free spirits reside in a nudist resort called DeAnza Springs on the southern edge of California, west of El Centro, just east of the San Diego County line. The resort is a self-contained community with gym, tennis and volleyball courts, indoor and outdoor pools, recreation rooms, dance floors, game rooms and a restaurant with a bar.
But the site, situated on more than 500 acres of high desert (at 2,600 feet), is 65 miles away from the nearest town. There are no hospitals or grocery stores. A lone woman is in charge of the post office where a Pony Express depot once stood. "When she's in the mood to open it up, she does," says Michael.
There's an Indian medical clinic nearby and an Indian casino 14 miles away. Once in a while, says Michael, she and Arnold "will hitch up the mules and the buggy and head down that way." They do their own cooking, mostly steamed vegetables and fish, and venture out once or twice a month to pick up supplies.
The two have lived in the resort for four years. Most of the residents are retired, and there are only about 100 who live there year-round. There are motels, rental units and folks who come in campers and motor homes who stay for a month or two at a time.
"We have a park model. It's a home on wheels anchored into the ground, with carports and patios attached to it. I thank our lucky stars that, even though we're out here in the middle of nowhere, we have a really, really good community."
While they're more than content in their current digs, hardly a day goes by when they don't think about watching the ocean waves and listening to them roar. The tropical lushness and serenity of Hawaii still beckon.
"We miss the Pacific pond. It's calling all the time," says Michael, who is a trained professional and teacher of Hawaiian, Tahitian and ancient hula.
Their nude Hawaiian wedding ceremony was featured on the "Naked USA Volume 1" video. An English producer who was doing a documentary on nudist colonies along the California coast shot the wedding scene at Swallows Sun Island Resort in San Diego. They also served as nude extras in an upcoming Paramount Pictures film directed by actor Sean Penn titled "Into The Wild."
"It's a true story about a man (Christopher McCandless) who, at age 26, gave away all his worldly possessions, burned his identity and hitchhiked his way to the wilds of Alaska," explains Michael. "They found him dead off the trail months later. He had starved to death. He went to Hot Springs on the way to Alaska and saw these wild people out there butt naked, smoking and doing drugs and the whole nine yards. They needed us. We were two of the wild ones."
They even had a chance to meet McCandless' parents during the shoot. "The father was a fan of Don's," says Michael.
Arnold, who has given presentations about nudism to various service groups, wrote a book on the subject in 2004. "Basic Nudism," published by Alternative Press of La Mesa, Calif., delves into the psychology of nudism as well as the false images of nudism.
"Nudism, for some reason, has obtained a bad name and is associated with promiscuity," says Jeff Archer, who published Arnold's book. "Nothing could be further from the truth. And nudists can fit in very well in the textile world (a term used by nudists to describe people who wear clothes when they go to school or work). There's an old joke about someone who did not agree with nudism and he said, 'If God wanted us to be nudists, we would have been born without clothes.' His words disproved his point."
Being comfortable with your body and those of others has nothing to do with age, size, shape or condition, says Archer.
"Psychologically, they normally are healthy. Nudists are brought up without the pressure of wearing the right style of clothing or portraying a certain false look about themselves. This is why Don and Ardath choose nudism. There is not as much hypocrisy in certain aspects of life. Don once told me that he was sitting next to an airplane pilot, an engineer and a truck driver at the camp one day. He said the beauty was that, without clothing to designate their social status, they were all equal."
Clothing at the resort, they note, is optional.
"There's never a dull moment," says Michael. "Just because we're stuck out in the middle of the desert in the high mountains in a boxcar somewhere …. we find things to do."
The secret to their success?
"We have fun. Our middle name is fun. If it ain't fun, we don't do it. Life is too doggone short otherwise. Life is about choice. Most people aren't aware they have a choice. We are aware, and we always choose to have happy. And we laugh. My dad always told me: You lose your sense of humor, you lose your ability to think straight, and I know that's right."
Editor's Note: Anyone who has film footage, fan club magazines, photos, news articles, etc. of Don Arnold are asked to come forward, as Arnold lost nearly everything in a devastating fire in 2003. Ardath Michael is in the process of putting together a Web site with information on Arnold. Fans can e-mail Arnold at [email protected].